Why is steel used in the automotive industry?
RP Lasertech is among the best stainless steel sheet manufacturers in India. Steel has a very lofty strength-to-weight ratio, is exceptionally hard, and is both strong and durable. It is useful as a material for automobile bodies because of all these qualities.
How is steel used in cars?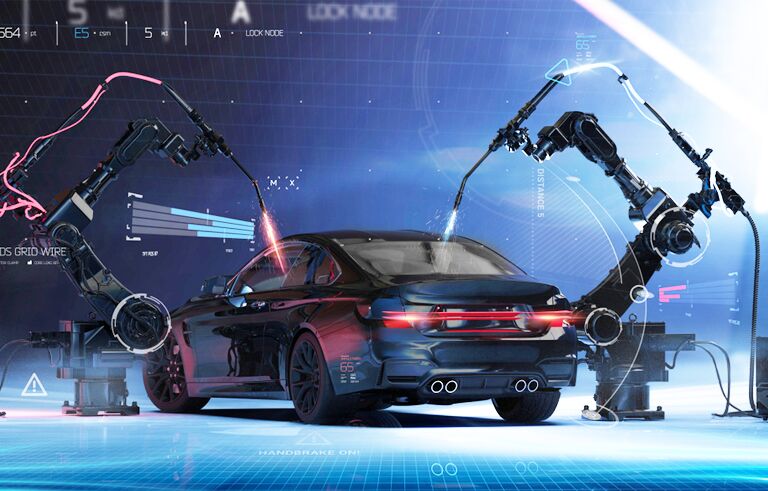 The chassis or cage that comprises the vehicle's skeleton and safeguards you in the case of a collision is built into cars using steel. Modern cars are made of steel, including door frames, roofs, and body panels.
Steel is frequently used in a variety of ways in automobiles. Most of this steel is located in the car's skeleton body, often known as the "body in white," which serves as the basis for the remainder of the vehicle.
Stainless steel, high-strength steel, high-carbon steel, low-carbon steel, or galvanised steel can all be used in the automotive industry to make body panels. These steel varieties are used to make the various engine and vehicle parts.
Different Processes to handle Steel Sheets
There are two major processes by which an enterprise can handle a steel sheet:
Steel sheets are typically loaded onto cutting machines or removed from the uncoiling line using this kind of lifting equipment for steel. Although there is typically a wide variety of lifting instruments available, only a few lifting devices are adequate for preventing scratches on sheet steel. For such, magnetic lifting is a viable option.
Removing the punched steel component from the stamping press or the cut pieces from the cutting table and moving them to the next step of the welding process. It would invariably include picking and placing steel sheet sections along various lines using magnetic grippers designed for robots.
Types of Steel used in the automotive industry?
Different types of steel are used in the automotive industry, including:
Stainless steel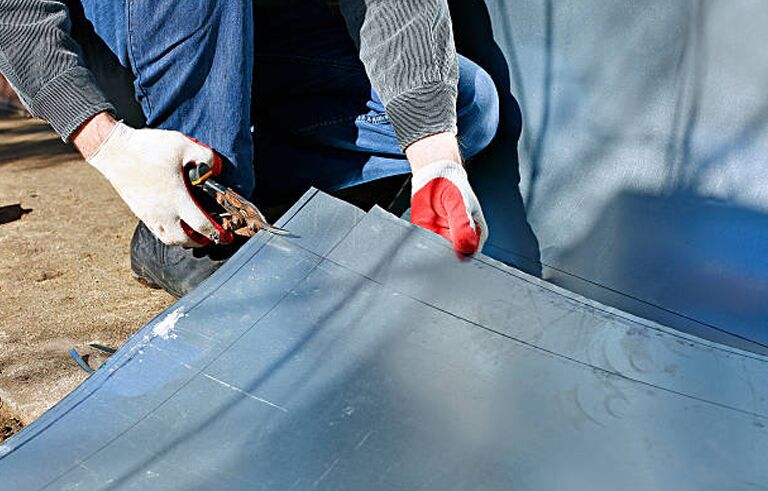 The term "stainless" may only be applied to steel raw materials or prefabricated products if they include at least 10.5 percent chromium, 1 percent carbon, and additional alloying compounds. This type of steel's capacity to resist corrosive substances is one notable quality. Beyond merely the auto industry, its glossy and light-bodied form has become a byword for dependability and functionality.
It seems natural that stainless steel is one of the preferred materials for creating and putting together various automobile components. The exhaust systems of many automobiles include between 15 and 2 kg of stainless steel.
Advanced high-strength steel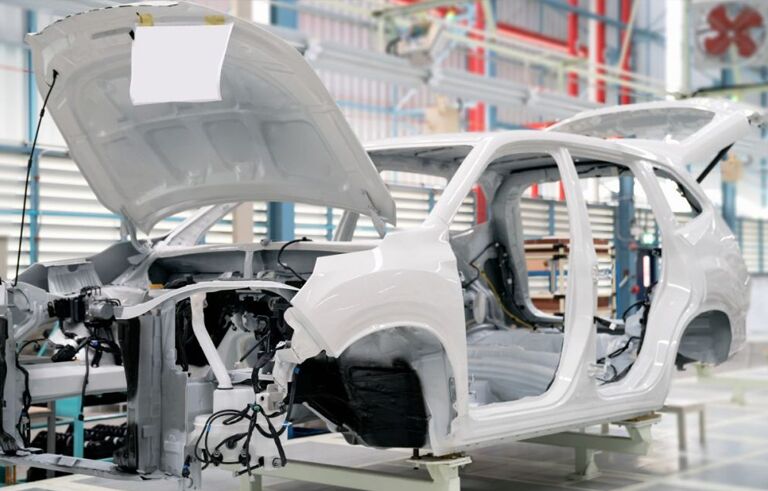 Advanced-high-strength steel, also known as AHSS, is a new grade of steel created due to contemporary steel developments. AHSSs are sophisticated and complicated materials, unlike normal low carbon and mild steel. It is constructed from carefully chosen components that have particular chemical makes-ups. The result is a precisely heated steel product that is robust, malleable, and has a very high fatigue rating.
Despite the characteristics of AHHSs, their light weight makes them a popular option for vehicle bodywork, frames, doors, bumpers, and undercarriages. Today, many automakers are developing practical ways to build AHHSs into reliable automobile material that satisfies performance, cost, and safety requirements.
High-carbon steel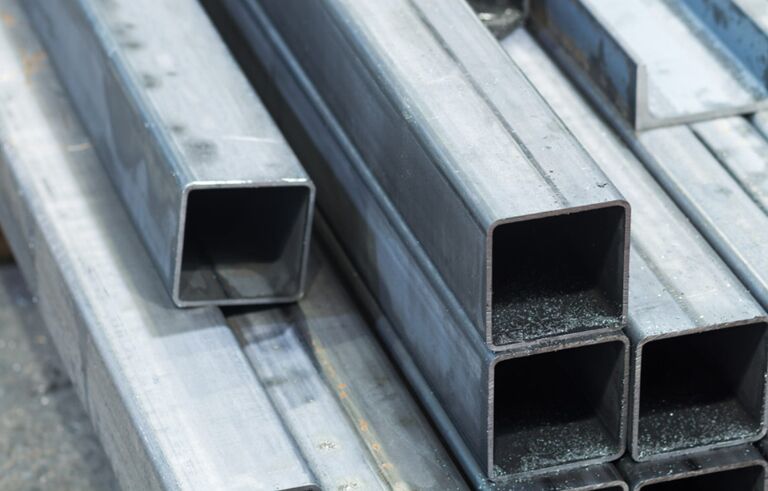 High-carbon steels are alloys that have undergone quenching, a type of heat treatment, to increase their carbon content. The quick cooling used in quenched steel "traps" the carbon and changes the structure of the steel, in contrast to the standard heat treatment of steel in which the carbon content is dissolved into the heated iron.
Strong carbon is frequently fashioned into cutting tools or metal fasteners. High-carbon steel is less malleable and more prone to brittleness than regular steel. However, it is counterbalanced by its high resilience to wear and tear.
Low-carbon steel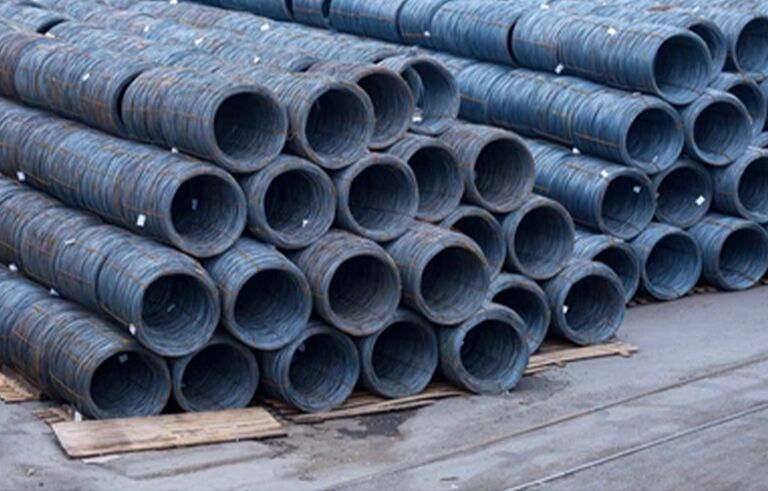 Low-carbon steel has a significantly lower tensile strength and worse yield-point runout than its high-carbon cousin. Low-carbon steel, also called mild steel, has continued to be used in numerous vehicle parts since it is inexpensive to produce and advantageous for fabricating tiny components.
Both the inside and exterior of the car are made of low-carbon steel. Wheel rims, covers, screws, washers, bolts, nuts, fasteners, and similar items can all be used as decorative items. All these are crucial for preserving the stability and construction of any particular vehicle.
Galvanised steel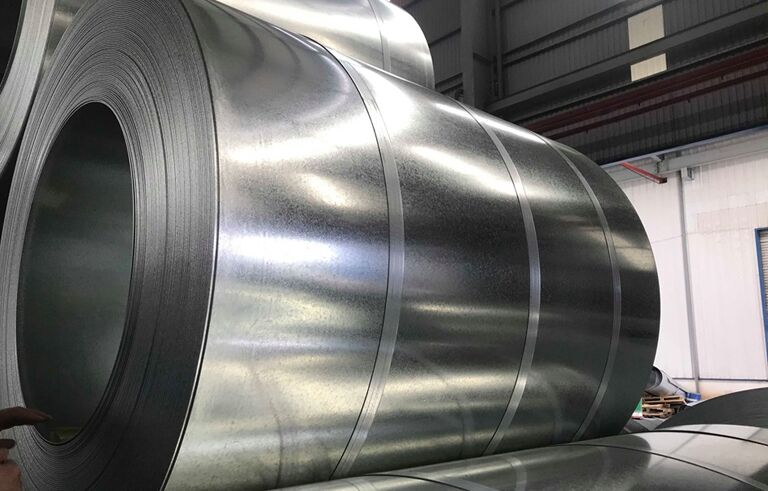 Another common application of this alloyed metal in the manufacture of vehicles is Galvanised steel, which is more inexpensive than stainless steel but more efficient than aluminium. Galvanised steel is now even regarded as a must for all types of vehicles. A car, truck, or motorcycle can have about 80% Galvanised steel. This sort of steel, which has a thin zinc coating, can increase the lifespan and functionality of the vehicle with nothing in the way of repairs or maintenance.
Galvanised steel has several advantages: affordability, increased toughness, self-healing, and accessibility. Galvanised steel is a less expensive alternative to high-carbon and AHSS steel grades that provide long-lasting protection for every component of the vehicle they are utilised in.
Conclusion
Certain steel, such as high-carbon steel and advanced high-strength steel, may give any car good strength attributes. The nature of other varieties is more cost-effective.
Undoubtedly, manufacturers from the automotive and steel-making industries will continue to design specific steel parts and products as both industries innovate, further strengthening the position that steel plays in both industries. If you are searching for stainless steel fabricators, check out the product list compiled by RP Lasertech. Give us a call or visit us in person to learn more about our products & services.